Tips to the Achieving a Successful Airbrush/Spray Tan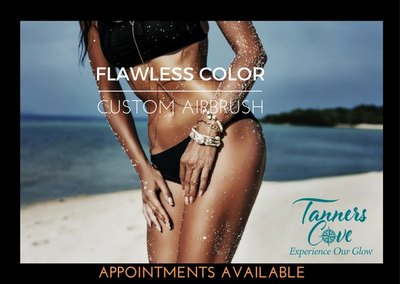 PREPARING FOR YOUR AIRBRUSH/SPRAY TAN
Waxing or Shaving should be done 24 hours in advance
Gently exfoliate skin 24 hours before appointment
Shower prior to appointment
DO NOT apply any lotions, make-up, perfumes or deodorant
Wear dark, loose clothing to your appointment
AFTERCARE OF YOUR AIRBRUSH/SPRAY TAN
DO NOT shower for at least 8 hours as the DHA develops
DO NOT get wet or sweat excessively during this development time
DO NOT wear tight or fragile/dry clean only garments during the development time (as staining could occur)
In the FIRST SHOWER after your appointment, you will see a large amount of dark color coming off--DO NOT be alarmed as this is merely the cosmetic bronzers and NOT your tan running down the drain!
After your first shower, keep your skin moisturized to help preserve your tan!
Avoid heavy exfoliation after your tan
MOST IMPORTANT....
Enjoy your Flawless Color only available at Tanners Cove!!